Description
Paddy's Irish percussion sample library features over 1300 bodhrán and cajón samples including individual hits and looped rhythms. Both instruments were performed by Patrick (Paddy) Broderick and recorded with up to six dynamic layers, several round robin repetitions (10x for the Bodhrán, 6x for the Cajón), and multiple hand positions.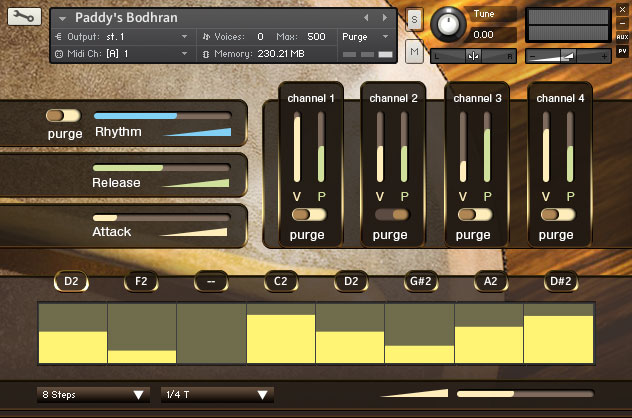 Two Drums, One Interface
The two instruments in this library share a common interface so you only need to find your way around one of them to master both. The on-screen controls provide access to a number of great features, all of which are detailed in the user guide.
Microphone Mixer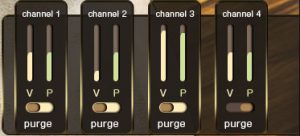 The samples in this library were recorded with four closely positioned microphones. The custom Kontakt interface provides a microphone mixer with control over each channel's volume and panning, and you also have the option to completely unload samples you're not using.
Got Rhythms
Playing complex percussion parts live on a MIDI keyboard can be tricky even for a skilled player. To help make things a little easier we've included a great selection of pre-recorded rhythms and a built in step sequencer.
Pre-recorded Beats

We recorded a variety of looped free-time rhythms on both instruments that you can trigger with a single key. The interface provides time stretching controls, allowing you to adjust the tempo of the rhythms to suit your piece, and a purge function so that you can unload the rhythms entirely when you're not using them. These loops were recorded free time, without a click, there is no tempo sync/lock feature.
Step Sequencer

The instruments include a built in step sequencer for creating your own playable looped rhythms. You can have up to five tempo synced rhythms sequenced at one time which can be quickly selected and played back using handy key switches.
Each sequence can have between two and sixteen steps. The on-screen controls let you easily adjust the musical length and duration of each step, for each sequence.
Real-time Control
Both the bodhrán and cajón respond to a selection of continuous controllers, all detailed in the user guide. The pitch bend wheel is especially useful when crafting a realistic bodhrán performance; it is the perfect tool for replicating the sonic change created by the musician's hand sliding up and down inside the drum head.