Description
The Elkatwin 61 is an Italian analogue synthesizer, considered a great string machine amongst enthusiasts and now available as an easy to use Kontakt 5 instrument. This library contains over 2000 samples recorded on original 1980's hardware. The user guide contains detailed information about using this library.
If you love the warm sound of analogue synths or desire an original instrument to help your music stand out from the crowd then this sample library is perfect for you. We've meticulously recorded each patch, both clean and with a selection of effects, and combined them with Kontakt's powerful scripting engine to produce a retro synth for the 21st century.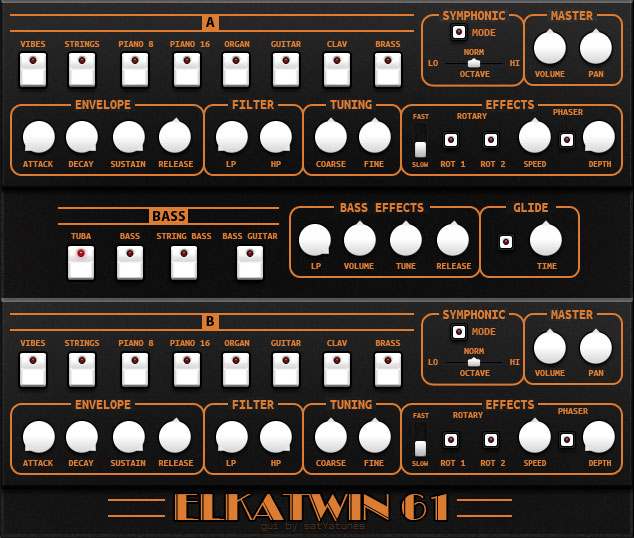 Layered Sounds

The Elkatwin allows you to select two synth patches at once, layer them on top of each other, and control them independently. We took this idea straight from the original hardware and improved on it by adding dual controls to make it quick and easy to manipulate the two layers independently.
There is a choice of eight patches including vibes, pianos, organs, guitars, classic brass, and of course synth strings, that you can distort, twist, and layer to create totally unique sounds.
All About Bass

In addition to the main patches the instrument also offers separate bass sounds. These extend the low range of the instrument and provide even more layering opportunities as the four bass patches can be used together in any combination; something that wasn't possible on the original hardware.
Effects

We have included a multitude of synth effects, both sampled from the original hardware and provided by Kontakt. These include two multi-speed rotator modes, a phaser, multi-octave symphonic mode (similar to a chorus effect), and a variable speed portamento-glide feature.
We painstakingly looped all of the long patches so that you can utilise the portamento-glide functionality to its full potential.
Elkatwin Essentials

A synth wouldn't be complete without a few essential controls. We've included volume and pan knobs, an ADSR envelope, two filters, and coarse and fine tuning controls. All of these can be adjusted independantly for each layer.