Description
The Haunted Music Box is here. As composers we want to have maximum control over our virtual instruments; being able to tweak each note to create the perfect piece is vital. For this little instrument we decided to change the rules.
It offers very few controls but lots of possibilities. Let the ghost in the machine choose the settings, press a key and see what it's created, you'll never hear the same sound twice. This chilling instrument contains a selection of looped music box recordings and ghastly effects.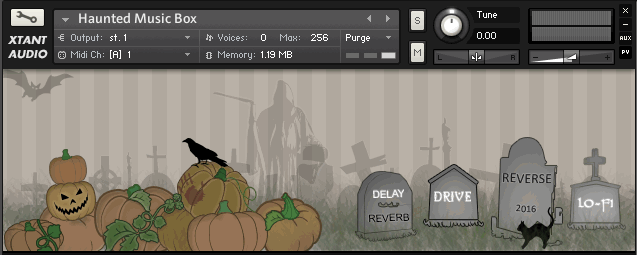 How to use it
Clicking on the jack o'lantern or pressing the red key switch will randomly select a sample and randomise the effects' settings. Clicking on the grave stones allows you to turn the effects on and off or play the samples in reverse. The green key switch can also be used to enable reversed playback. You can control the volume using CC11 and apply an LFO using CC1.
Each music box recording has been spread across the key range. Playing C3 will play the sample at the speed it was recorded, the further down the keyboard you play from this the slower the playback will be. Playing higher results in faster playback.