Description
The goals of this lesson are to broaden your knowledge of Kontakt scripting techniques and introduce intermediate challenges that will hone your scripting skills. The project you'll build will expand upon the basic principles taught in lesson one.
Each lesson in the series is standalone, although there is a little bit of overlap. You don't need to have seen any of the others to be able to follow along. As you progress from lesson one to four it is expected that your base level of Kontakt scripting knowledge and ability is higher.
Lesson Plan
During this lesson you'll build a synthesiser sample library, with samples kindly provided by Sampleism. As with lesson one you'll first be introduced to a topic, given some simple exercises to demonstrate how it can be applied, and then you'll combine it with other concepts you've learned to build a Kontakt sample library.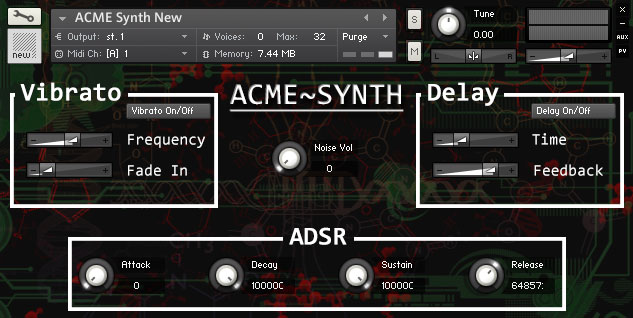 In over four hours of video you'll discover how to build a sophisticated sample library that includes key switches, oscillators, modulators, effects, loops, visual controls that can be used to manipulate the instrument's parameters, and a basic sequencer. You'll study new aspects of Kontakt's mapping and wave editors. You'll also be shown two script editors used by professionals that provide a greatly increased workflow over the one included in Kontakt.
Downloadable Content
When you download this lesson you will receive seven tutorial videos in mp4 format, with a running time of over 4.5 hours, the wallpaper image used to build the project in PNG and PSD format, 64 synth samples provided by Sampleism.